NEWS
A Gathering in the Making
Sreshta Rit Premnath,
Gabriela Salazar,
Justin Sterling


Someday Gallery

120 Walker Street, 3R
New York, NY
April 13 - May 20, 2023
---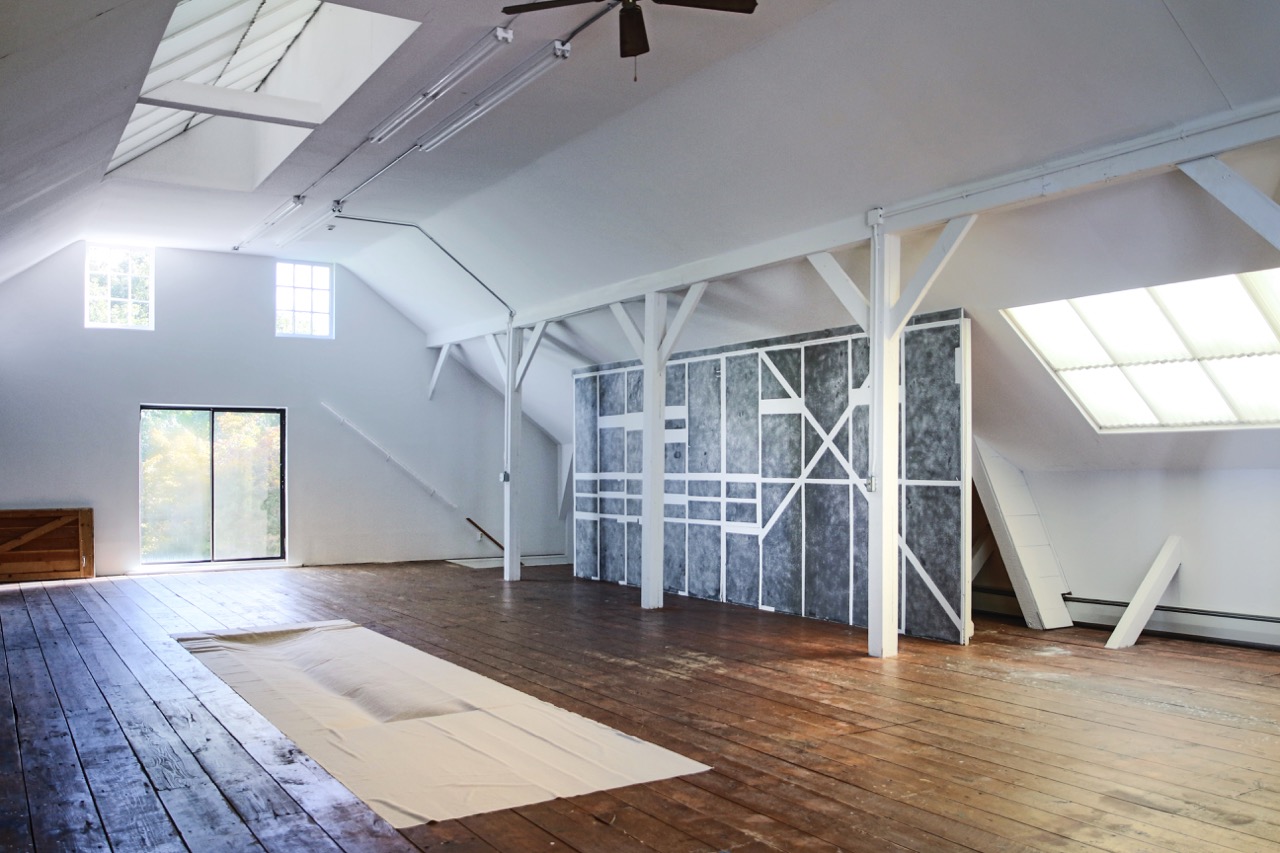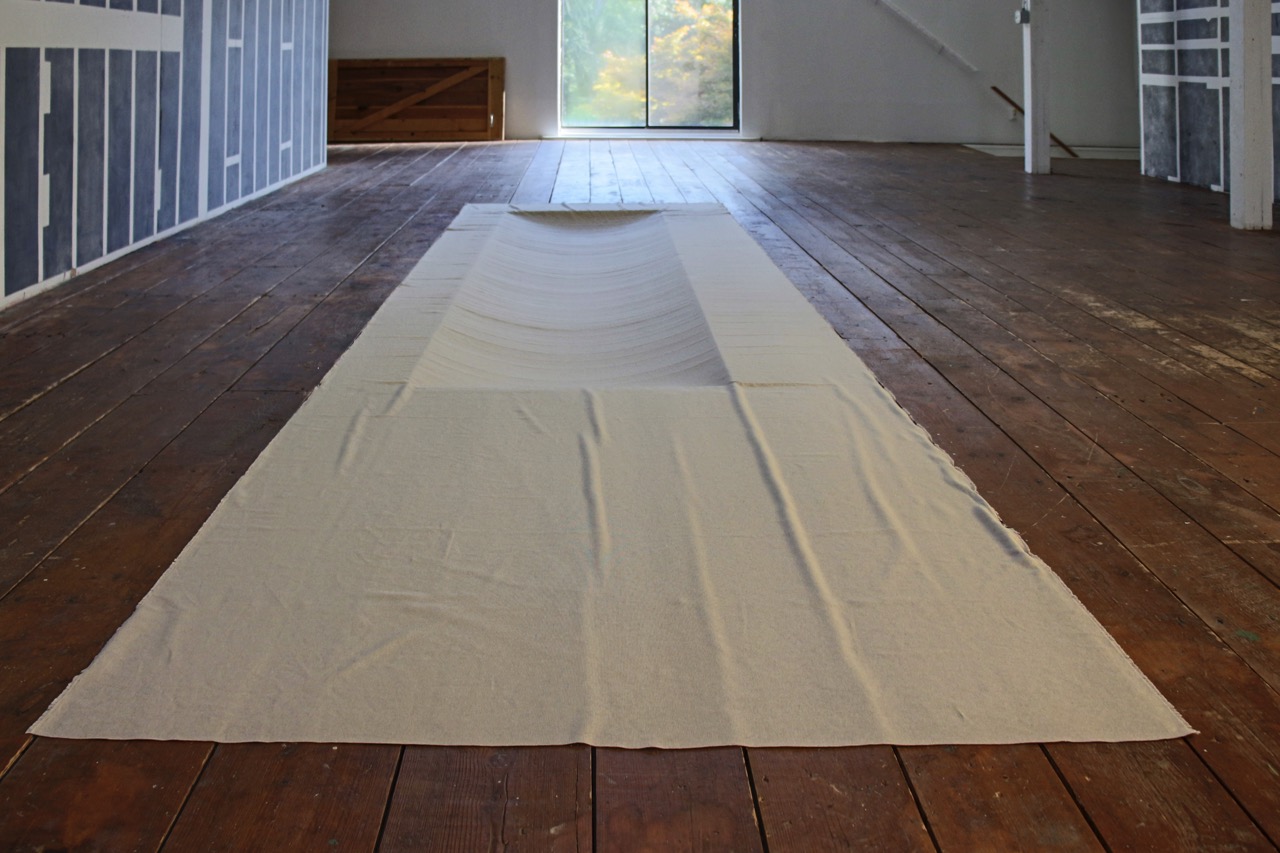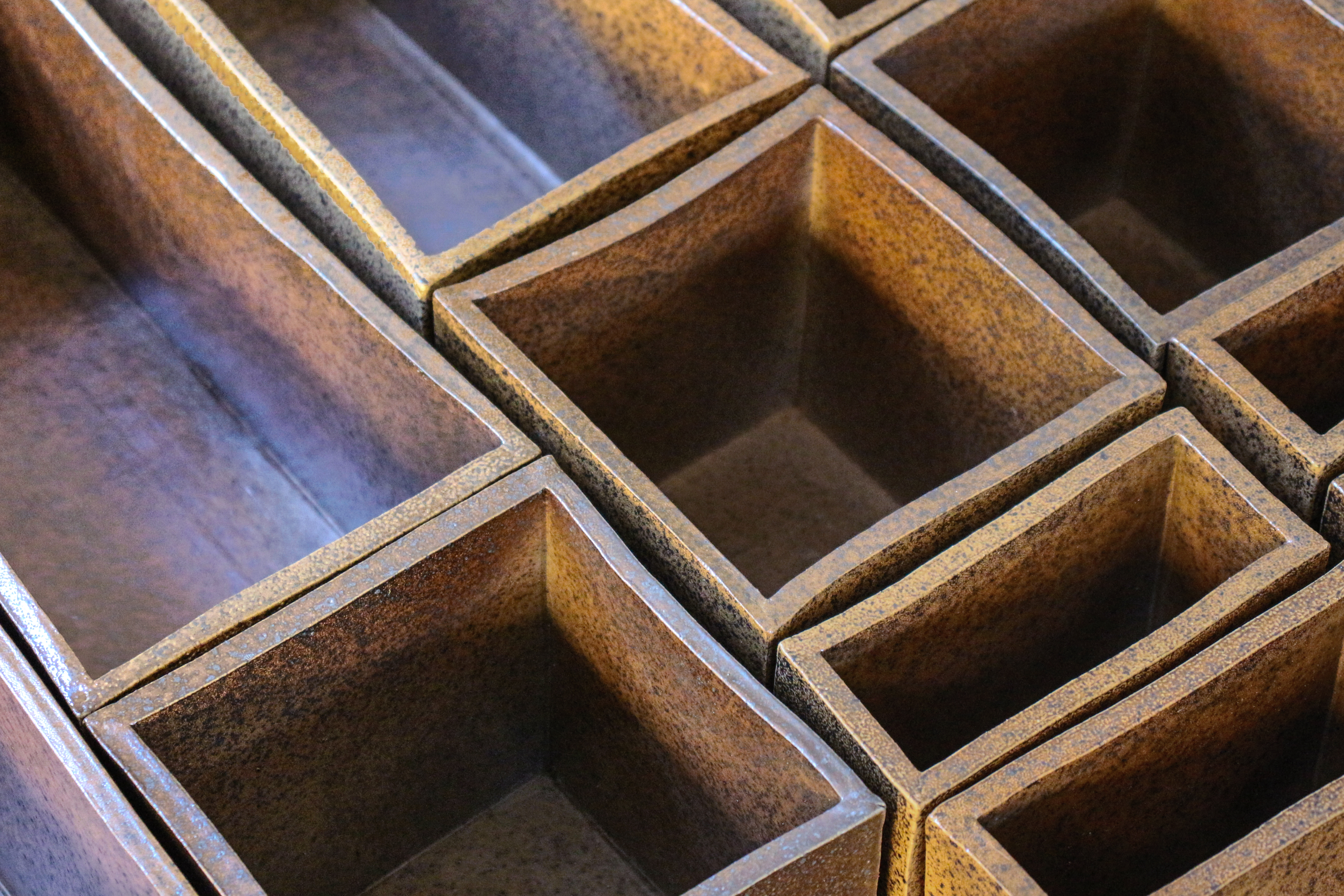 Holding Patterns
2021
Holding Pattern, Walls (for Mara)

Existing studio walls, graphite powder

Holding Pattern, Column (for Gene)

Salt-fired ceramic

Holding Pattern, Trapdoor (for Sylvia)
Linen, cotton thread


Holding Pattern, Handrail (for Al)

Paper pulp, cardboard, wood, zinc handrail brackets

River Valley Arts Collective
at
The Al Held Foundation, NY
Through a series of interventions and sculptural objects, the artist transforms the exhibition site into an autobiographical drawing of itself. The exhibition is organized in collaboration with the Al Held Foundation in Boiceville, NY.
The site of intervention is a former hayloft modified by the abstract sculptor Sylvia Stone (1928–2011) who worked in the smaller of the two studios within Held's Boiceville complex. To suit her practice, Stone added an oversized trap door in the floor to streamline the transport of large plexiglass and acrylic sheets used in her large-scale geometric works. The loft eventually became Held's drawing studio in the latter part of his career when a connecting interior staircase was added and was subsequently used by the abstract painter Mara Held and is now reactivated by Salazar.
Through sculpture, drawing, writing, and site interventions, Salazar's projects investigate the relationship between human-made spaces and structures and the unpredictable or invisible forces — the shifting of land, the pressures of gravity, the passing and layering of time and use — that act upon them. Ultimately, her work charts the psychic and physical effects of change. Salazar often uses found materials and sites, engaging in wordplay, psychogeography, and phenomenology to bring out new associations between the found, the altered, and the made.
The main component of Salazar's presentation is a one-to-one drawing of the negative space created by the behind-the-scenes wall studs and cleats of the studio's two facing walls. Applying graphite powder directly onto the walls' external surface, Salazar produces an off-kilter grid through the act of transference of the interior structure. Conceived as a collaborative drawing that considers the studio's past occupants, the work incorporates the underlying structure as it compounds history of the walls' use by making visible the subtleties that layers of white paint aim to hide: remaining traces of wall spackle, surface grain, fingerprints, protrusions and dents. By revealing this past use of the wall surface, the work draws attention to its literal make and measure and serves as a kind of map of the history of the room and how it came to be.
Further drawing on the architecture of the site — the trap door, support column, and hand rail — the artist considers the psychic space and the physical mechanics of holding through sculptural interventions. Pointedly, the textile, paper pulp, and salt-fired ceramic works perform a mimesis — an imitation of the room's structural forms and architecture — as they embody a constellation of ideas Salazar formed around the notion of holding and to hold; conceptually tying together the use of the studio-as-surface/container/repository, the geographical proximity of the Ashokhan Reservoir, an on-site ceramic silo, the act of filling and draining, the dramatic relocation of Boiceville, the water system that supplies New York City, the artist's own upbringing and motherhood, sustenance, support, commitment, resentment, containment, transference, osmosis, preparedness, life and death.
— Olga Dekalo, 2021